Little Gnome Facts
 In the beginning…
This was written in 2013. It describes the process, through the eyes of ignorant enthusiast, of getting a miniature from thought to Thopas. I have added some small updates using the 'experience' I have gleaned from having produced over fifty miniatures at this point. Updated material is noted in large, friendly letters. I hope to make a series of posts about each aspect of our game production so no one needs to make the same mistakes I made. Also, because role-playing games and metal figurines are still awesome together 40 years later.
The experience of getting a custom, professional quality 28 mm miniature from character sheet to retail quality packaging. As seen from the perspective of a first-time game publisher. UPDATE: Since this article was written we have produced nearly 50 figurines with no significant problems. Yes the Matt mentioned throughout the article is the Matt Solarz from Center Stage Miniatures. He was incredibly helpful to me for no reason except he liked minis and liked talking about them. Matt's help was what made my minis possible. I wish it had been as possible for him to succeed and everyone else (me included) that backed his KS projects to have gotten their pledge rewards. Before I begin I would like to show you where it all ends…
That is my spokes-gnome Thopas, in all his miniature glory. As painted by Tom Nelson, the Midwest Miniature Guy. Since we published the Whisper & Venom Boxed Set I get questions about game production all the time. I figured some of you might be interested in making your own miniatures for an RPG or a board game. Here in how round one went for me.
Overview of the Process
Step 1– Genesis
He started as  a character that a friend of mine played for years back in the day. His gnome was a party favorite in our home game. So, when I needed an unusual villain when I wrote Whisper & Venom, I included him. He was very popular, especially with casual players (Update: He still is, much to my amazement). So popular in fact that I decided he should be the brand spokes-gnome for my pretend company and, thus, a figurine.
Step 2– Description
Describing him to an artist proved harder than I expected. I knew 'Little gnome with a beard, staff and a proclivity for deviancy wasn't enough. We worked on this over the course of three days. It was too long on reflection but, we were told to over describe if we were not sure- and we were not sure. You can be the judge the original description to Jeff that I wrote is located here.
Step 3– Basic Concept Art
Center Stage put me in touch with Jeff Dee to do the concept art. I was a tad nervous working with an artist I admired as much as Jeff but I knew what he would produce would be top-notch. So I sent the description and PayPal payment and figured it would be a week or so. Hours later I got this in my inbox . . .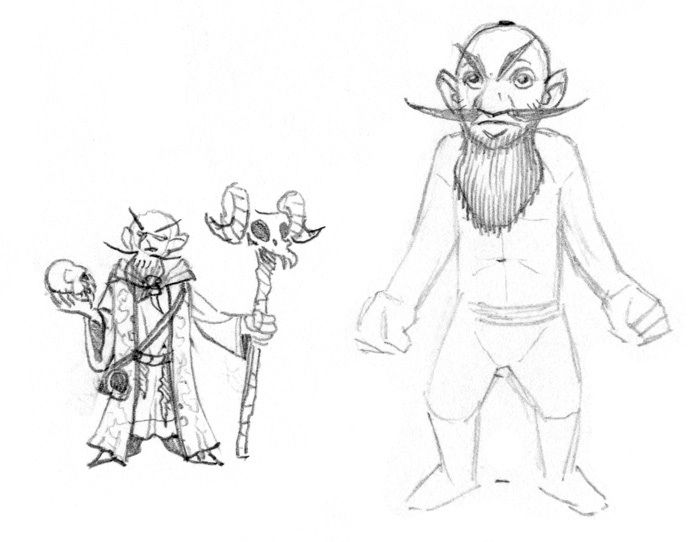 That was him alright. I figured that I now had all that was needed to get the sculptor started. Not true as I found out that was only the first step, the concept of the concept so to speak.
Step 4– Refined concept art
Jeff asked if we had any changes. I think we did and they were very minor. I sent those along expecting an image very similar to the one shown above. Wrong again. This is what I got the next day . . .
I was amazed. So with better art than I imagined it was time to find a sculptor. Since sculpting was something I knew even less about than art I asked the only guy I knew if he could help. He did better than help…
Step 5– Sculpting
Matt recommended a sculptor named Mark Evans from the United Kingdom. The only two sculptors I knew by name at that time were Julie Guthrie and Patrick Keith. A famous person once said, "a man has to know his limitations" and I felt strange just think of contacting either one of them. I knew only that I knew next nothing about this and quikly agreed to contacting Mark Evans. Without seeing any samples of his work; it was a good decision. It was close to the holidays by this point so I did not hear very much for a couple of months. Then the day after my birthday Matt forwarded me two work-in-progress images…
This one shows Thopas at different angles along with the concept sketch. Even the sculpt shows an impressive amount of detail considering the picture was take he wasn't quite finished.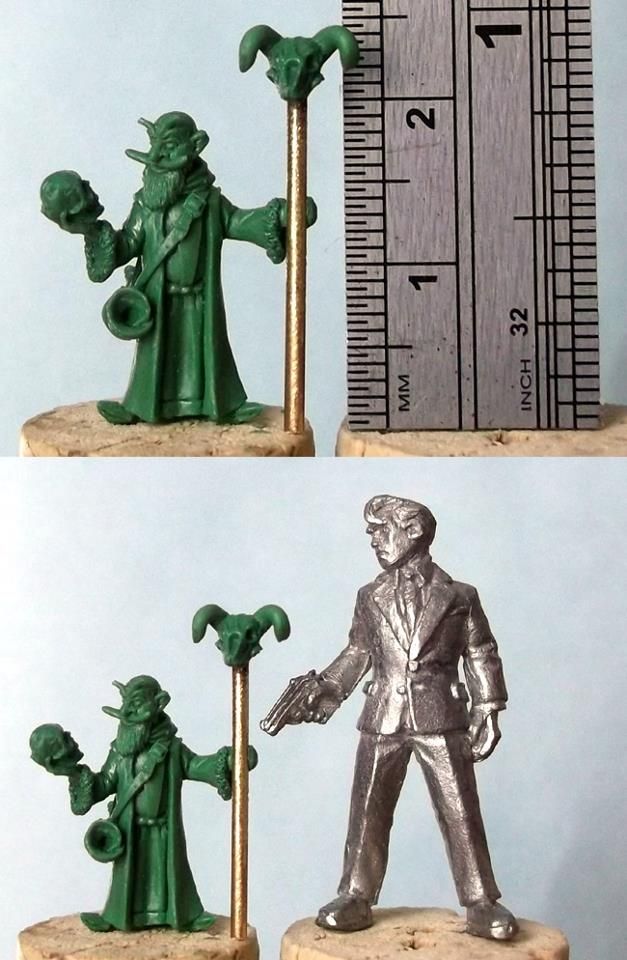 This image shows both the physical size of the Thopas model as well as his scale relationship with a 'normal-sized' figurine. I knew he would be a small figurine but this is the first time that I got a good idea how small.
Almost immediately after I received the image I was told that he was on his way to …
Step 6– Casting
It was at this point that I realized I had zero concept of how one sculpt became 300 miniatures (UPDATE- He has been cast over 1000 times since this was written). Valiant sent a detailed description of the process, Matt explained it to me again in detail. After all that helpful information I promptly forgot 90% of it. Luckily I wasn't in charge.
These are the basic steps:
First, the sculptor sends the finished model to the casting company. This is for production of a master. Which is like the backup copy of the sculpt. Two figurines were cast as prototypes from the master and sent to the owner of the production rights for approval. (UPDATE– This has seemed an almost unnecessary step from my perspective;after 50 miniatures I had one that I had an issue that  needed post mold adjustments)) . They do it for very good reasons that I now understand. At the time it just seemed to add about 4 weeks to the process.
Once the prototypes arrive, the owner of the commercial rights to the sculpt (in this case me) emails to give approval for the miniature.
Next, the production molds are created. They are designed to withstand the heat and longer spin periods of the manufacturing process.  They have thicker rubber molds, which leaves limits the space for minis. Valiant's stated preference is 1 figurine per mold. This is expensive to customers with small projects and smaller budgets. It saves a lot of headache though if you plan to offer the models over time. It also helps with mistakes with orders. In many cases  five or six figurines can be spun from the same mold. Lesser Gnome's Goblin's were made 5 models per mold.
Finally, the molds are placed in a half-cylinder shaped container and spun, distributing the liquid metal into the molded shape which creates the miniature many times over.
For me my entire involvement consisted of opening a box and finding this inside . . .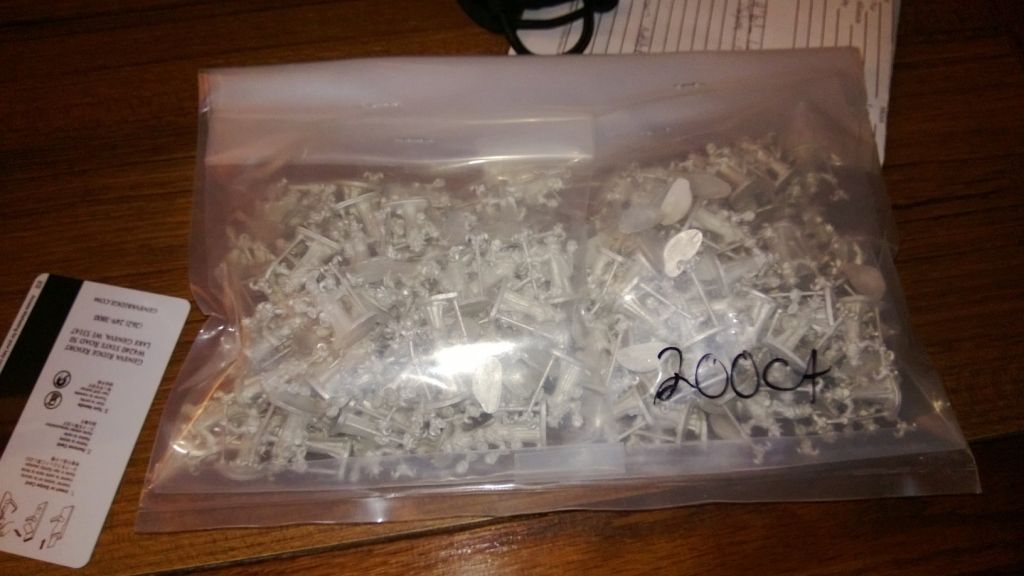 Step 7 – Shipping and Packaging
The Gnomes had an arduous journey to GaryCon IV. The sculpts were couriered from England at great expense – the Royal Mail damaged the original parcel- and barely made it to Valiant Enterprises with time to complete the molding and casting. Then, because of the time,  they were overnighted to me at the Geneva Ridge Resort. I also received a helpful package from Matt with self-sealing plastic bags, along with a pile of clam shells (yeah, I didn't know either- its a plastic packaging unit which is bought in bulk that can hang on a peg) in a separate FedEx box. A great deal of effort was spent by Valiant on this effort.  They went beyond the call of duty to get these to me as fast as they did. Anyone considering casting figurines for any project should contact them. Best Customer service I could possibly imagine.
(UPDATE: That is the process to get him in bulk and delivered. I thought a few more thoughts about how he got painted for promotional use and into the hands of gamers might be of use.)
Thopas spreads across GaryCon
At that point I started making promo kits with a sealed Thopas stapled to an paperboard handout. The postcard sized handout featured a fully colored Thopas (once again by Jeff Dee) and a quick description of Whisper & Venom and its contributing professionals. Here is the final color art from Jeff Dee.
I was happy to receive the color Thopas art and the minis at the same time as there was one final step I wanted to have taken care of before the Kickstarter in June. A snazzy paint job worthy of a fashionable ladies gnome like Thopas. Enter Tom Nelson, the Midwest Miniature Guy, who I met on FaceBook months earlier and inquired as to painting rates. Upon my return I shipped a pair of gnomes to Tom in the unfortunately named town of Coon Rapids, MN. He got to work right away. First he set up a base and terrain…
Then a black base coat and early color on the exposed flesh… Lucky for him Thopas had less exposed flesh than usual for a gnome with his 'quirky' sense of decency.
Then brushing on the beard and base coloring his robes . . .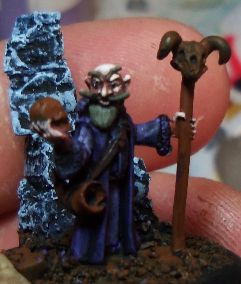 Which brings me back to where we started with this article . . .
Behold! The Sine Qua Gnome himself, Thopas. The amoral and disreputable spokes-gnome of Lesser Gnome.
Only made possible by the following individuals and enterprises. I cannot recommend them highly enough.
Jeff Dee– Jeff is an artist and game designer. He did the Thopas concept art above as well as many other pieces for Whisper & Venom including the box cover art. Early in his artistic career he did many of the most memorable pieces of artwork for a little game you might have heard of called Dungeons & Dragons. He didn't stop there and retire like I would have. He grew older and more prolific. I could go on and list more and more things he has done. I don't have to though; he is so famous he has a Wikipedia page.
Matthew Solarz– a stand-up guy who is honest and committed to making the very best miniatures for gamers and hobbyists alike.
Mark Evans– Mark is a sculptor who resides in the UK. The little gnome sculpt was his work. The detail is amazing, everyone who has seen him has been effusive in their praise.
Tom Nelson– Tom is the proprietor of Midwest Miniature Guy, a painting service in Minnesota that takes clients from anywhere. His work speaks for itself as you can see above. See more of his paintings and hire him to paint anything and everything that measures in millimeters by clicking here.
UPDATE– If anyone had any specific questions I would be happy to answer them. I am unable to promise good answers but I am happy to share what I have learned with anyone.
-Zach